RETURN _ a devised dance piece
GUANDONG DANCE FESTIVAL (premiere): 27th of November,
CONTACT FESTIVAL (Singapore):  6th December
Choreography, dance and costumes: Jiang Ke-yu and Henriette Blakstad
Light design: Low Shee Hoe
Text: Henriette Blakstad, Mariann Rostad
Commissioned by the 9th Guangdong Dance Festival and Ibsen International (Norway) for the project Ibsen in China 2012. Produced by Na´er Dance Company (China) and Phoenix Conceptual Theater (Norway).
RETURN – project what who when where why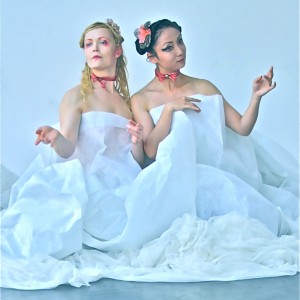 Return. A circle.
Your inner self. Your outer self.
The different faces of the woman.
What is ugly and what is beautiful?
Who decides?
Continuous repetition.
Layers we tear off to get inside.
Those innocent stories…memories.
Two feet on the ground.
Undressed and vulnerable.
Strength.
To wake up, to be awake.
Courage.
The time. Time to go near.
Time to change. Time to know.
Time to return.
BIOGRAPHIES
JIANG Ke-yu, founding member of "Na'er Dance Company". Ke-yu graduated in 2004 from the Beijing Dance Academy, majoring in Choreography of Contemporary Dance. Between 2005 and 2009 she was invited by the Chinese Ministry of Culture to work as choreographer and dance instructor for the Cameroon National Dance (Cameroon). Jiang choreographed several opening ceremonies as well as various large-scale productions both in China and abroad, including her most recent work Chinese Calligraphy Music and Dance Concert (August 2012, Sadler's Well, London). She has participated many times to the Beijing Dance Festival and the Guangdong Dance Festival.
Henriette BLAKSTAD
Artistic and Managing Director Phoenix Conceptual Theater. In 1992 Henriette graduated with a BA in classical ballet, contemporary and jazz dance from the Oslo National Academy of the Arts, and continiued her studies at the Norwegian Academy of Acting. Her 23 years' long career as a professional performer begins at The Norwegian National Ballet in classic pieces such as Swanlake, Don Quixotte and Romeo and Juliet. Aftwerwards she performed in several musicals such as A Chorus Line, where she sung the leading part, and moved to modern dance working with several outstanding Norwegian choreographers like Sølvie Edvardsen and Un-Magritt Norseth that brought her to China to perform Henrik Ibsen's "A Dolls Hose" in co-production with Jin Xing Dance Theater (commissioned by Norwegian National Ibsen Theater and produced by Inger Buresund).
Blakstad's work as a director and choreographer have received increasing attention since 2008. Her many pieces include "Return"in co-production with choreographer Jiang ke-yu (Guangzhou Modern Dance Festival in China and Contact 2012 in Singapore), "The Mobile Lady", "The Invisible", "As you like it Whatever happened to Beauty?" (Skidmore College, New York) and "Dust" (Norwegian National Ballet School). Blakstad has currently opened her own studio space "STUDIO 18" in Oslo, that houses her company Phoenix CT, and offers physical acting training for professionals in co-operation with The Norwegian Acting Center. This fall she will perform in "Doris Lessing", a new written devised piece for adults involving puppetry.
Mariann Rostad As the second half of Phoenix Conceptual Theater, Mariann Rostad contributes with her expertise within set-design and composition of text-material/new written text. She is an important part of the company, and is always involved in the artistic choices for Phoenix CT productions.
Mariann is educated from Einar Granum Artschool, Wood and Metal Art-College, and Production Design at The Norwegian Film School. She has been working for several of the biggest theaters in Norway, like Riksteatret, Nordland Theater, NRK -The Norwegian National Broadcasting, Mariann is now engaged at The Norwegian Theatre in Oslo, Norway in addition to working with Phoenix CT.
Performance photos: