DISCO-TECA: research & open presentations
Research&Development phase:
June-October, 2015
Open presentations:
10 October, 7:00 – 9:00 pm, Lianhe Bookstore, Guangzhou;
11 October , 8:00 – 10:00 pm, 1200 Bookstore, Guangzhou;
12 October, 6:30 – 8:30 pm, Guangzhou Fine Arts Academy, Guangzhou;
13 October, 8:00 – 10:00 pm, Yi-gether Center, Guangzhou;
July, 2016
Open presentations:
9 July, 3:30-5:30 pm, Guangdong Times Museum
15 July, 7:30-9:30 pm, RSDBT
THE CONCEPT:
Disco as Culture of Transition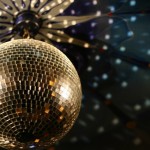 After a meeting in November 2014 at the Guangdong Dance Festival, choreographer Er Gao and Ibsen International's project manager Fabrizio Massini start discussing a new project. The core concept is the appearance of disco music in the 1980s, when China opens its doors to the world. A fresh breeze sweeps the country from the south; through a triangular route via colonial Hong Kong, disco music bursts in. A hurricane of synthesizers, lascivious moves, and wild hairdos storms the Popular Republic. After 3 decades of collectivism, the germs of individualism reappear in the ballrooms, floating along with the skirts, reflected in the disco balls. The Pandora's Box of sexuality, gender, body, and pleasure in Disco music was opened.
PHASE 1:
Academic & Performative Research
In July 2015 Dr. Wang Qian, music sociologist, joins as an adviser to provide insight on the phenomenon of disco culture in the Greater China region (mainland, Hong Kong, Taiwan). Like disco culture the project transforms,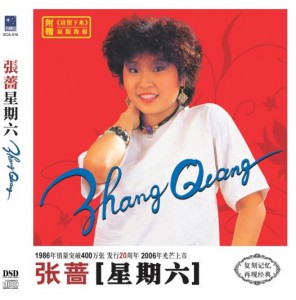 becoming a multidisciplinary investigation that combine performance with academic research. The common research points: how are cultures globalised/localised in the process of cultural fusion? What is preserved, transformed, and written off? How are music, body, dance, gender performance/performativity, and gender identity knitted into a sophisticated relationship?
Between August-October 2015, a group of dancers from mainland China, Macau and Malaysia start working under the direction of Er Gao, to explore the topic from a micro-perspective: how does going to a disco club contribute, now as in the 80s, to the construction of the self? How do rhythm and melody awake human body and desire? The academic research provides a wider background: how does the appearance of private disco clubs change the social landscape? what changes in fashion, popular culture, relationship between generations and genders? How do the micro-level of subjectivity interact with the macro-level of society?
PHASE 2:
Seminars and open demonstrations
Since 2014, we organized 6 demonstrations open to the public in different venues (bookshops, fine arts academies, museums, cultural centres). These demonstrations serve a double purpose.
On one hand, they are an occasion to share knowledge about Disco music, and the impact it had on society in the 1960s – 1980s. The program starts with a lecture by Dr. Wang Qian about the birth of Disco, its origins and development, and its migration from the USA and Europe to mainland China via Hong Kong. Afterwards, the dancers share an excerpt from the performance, and invite the audience to learn iconic disco music steps.
On the other hand, the presentations offer a feedback about the audience's understanding of, and relationship with, Disco music and the Disco era. This information is precious for our academic research project, led by Dr. Wang Qian, and to our creative team, who continuously adjusts and enriches the performance.
PHASE 3:
Live performances
The solo version of "DISCO-TECA" premiered on November 4 at Gender Bender Festival (Italy). Since November 15, the group version of "DISCO-TECA" has toured in China (Guangdong Dance Festival, Shanghai 1933 theatre, Beijing Nanluoguxiang Festival) and Malaysia (D'Motion Dance Festival). For further information please see DISCO-TECA: Live performance
Pictures and comments from the open demonstrations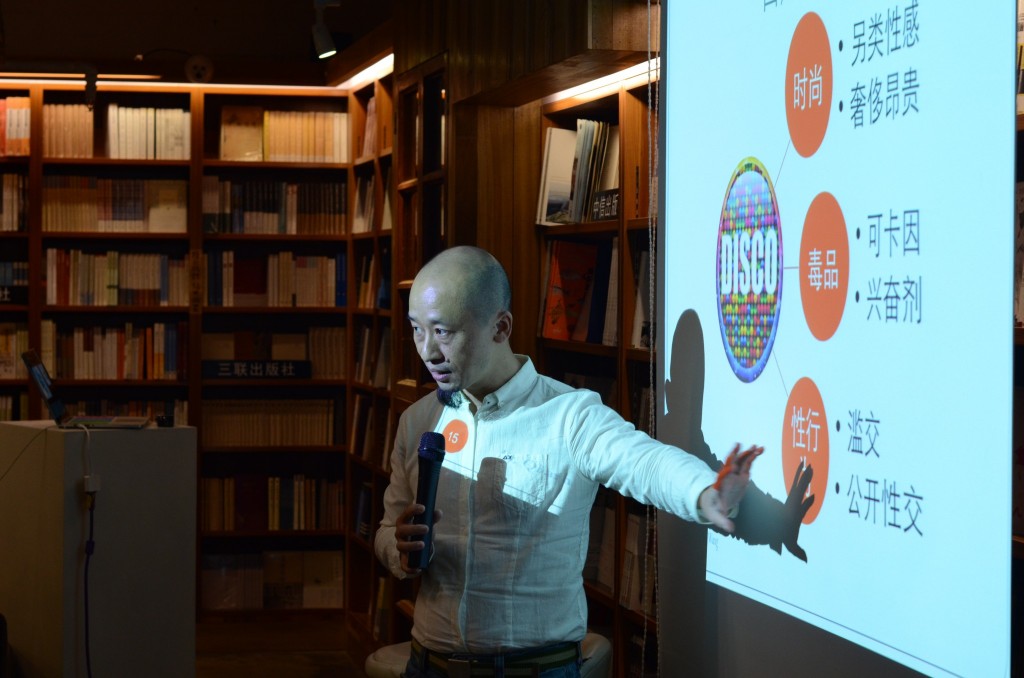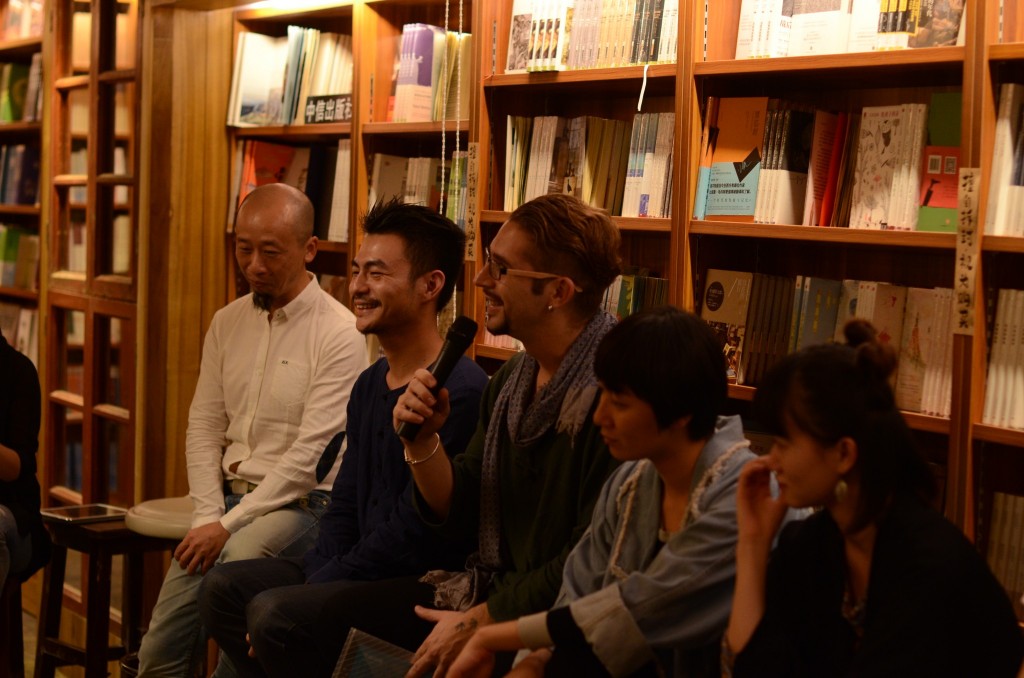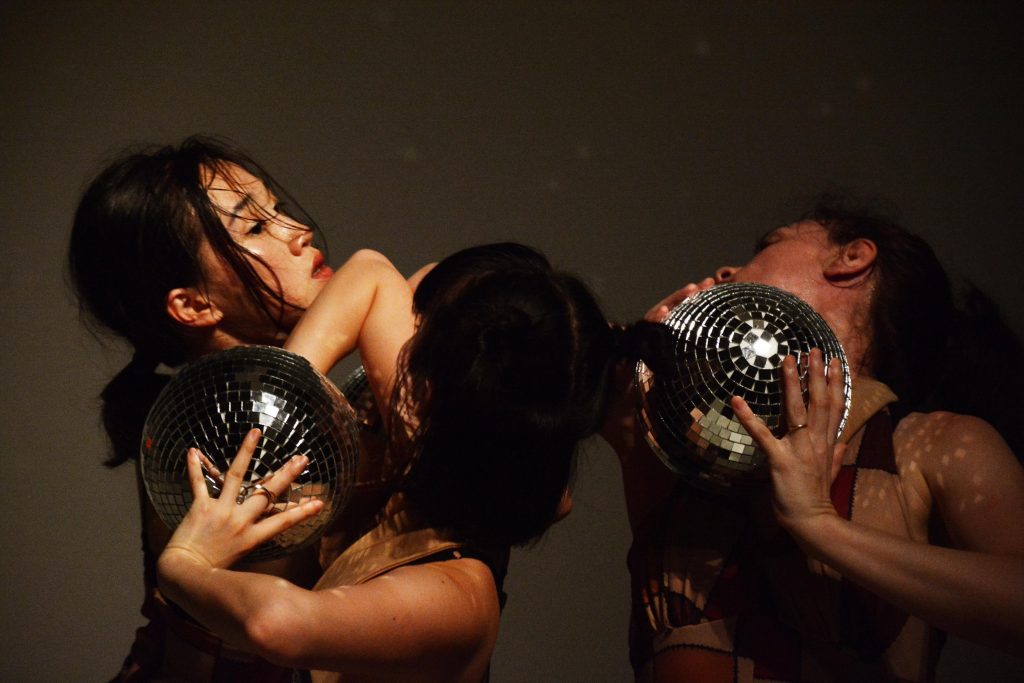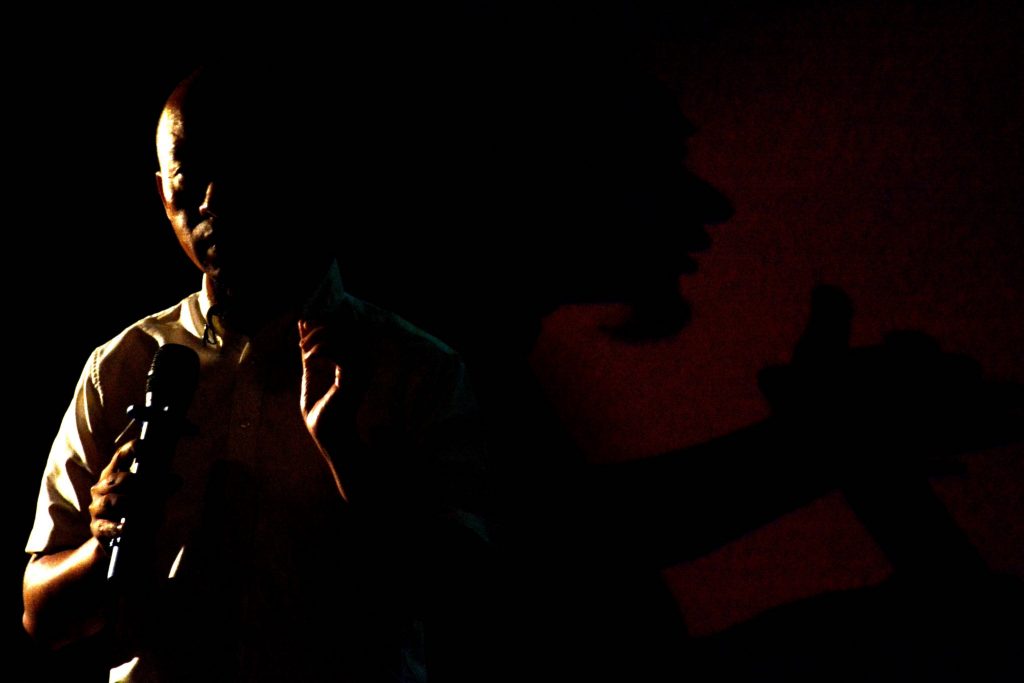 Guangdaong Times Museum/ Picture by Vincent
Audience Feedback:Nostalgia is a way for people to recall the times past, a kind of private childhood or teenage years. All the things from that era have disappeared or have been thrown away, same as one's childhood or teenage years. We miss the most what we cannot find. All the feelings of the past are associated with something that remind us of them _ some food, an old song , a picture , a building. Or it can be a fragrance and a kind of collective effort, that combined together makes what we call an era .@CICICAT
Guangdaong Times Museum/ Picture by Vincent
Audience Feedback:Finally I was convinced. Leaving the spectator's perspective, in fact, is vague and subjective. The sincere feeling is to participate and face one's own desire, joining another group of people who are transparent and generous. As hot winds of summer gradually quiet down, the Shanghai night was really beautiful. I cannot stop thinking: what a beautiful world!@ Lotus Fan

RSDBT/ Picture by Connie
Audience Feedback: A very "complete" work. This "completeness" includes a look toward life, the interpretation of humanity. Being complete doesn't mean to be perfect. It takes flaws, fragility and differences to make a complete world. Are you perfect? Or complete? @Jesse

RSDBT/ Picture by Connie
BIOs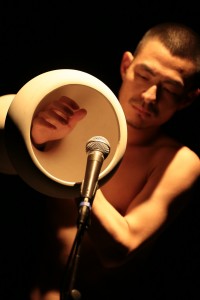 Er Gao, alias Ho Qi Wo, is an independent dancer and choreographer from Guangzhou, China. As one of the pioneers of dance theatre in mainland China, Er Gao creates works of rich imagery and focused on themes such as sex, gender and identity.
His works have been invited to various festivals including Beijing Crossing Festival, COART Festival, Shanghai Fringe Festival, Hong Kong I-Dance Festival, Dance Wave Fukuoka 2008. In recent years he was commissioned by the 41st Hong Kong Arts Festival and 10th Guangdong Dance Festival. His piece "Supertight" was featured in the exhibition "30 years of experimental theatre" at McaM museum (Shanghai). "Lucy", one of his latest dance videos, has been included in the Festival de Cannes 2014 Short Film Corner.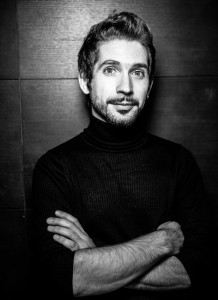 Fabrizio Massini is a theatre practitioner. Starting off as an actor and director in Florence, since 2002 he started studying Chinese culture and theatre in Florence, London (SOAS) and Beijing (Central Academy of Drama). Based in China since 2009, Fabrizio is active as artistic consultant and performing arts producer for several institutions in Europe and China including Beijing Fringe Festival, Wuzhen Theatre Festival, Guangzhou Dance Festival, Intercity Festival (Italy) and Odin Teatret (Denmark). He also curated workshops, forums and gave guest lectures for the Danish National School of Performing Arts, National Theatre Company of China and others. Since 2016, Fabrizio is Artistic Director at Ibsen International.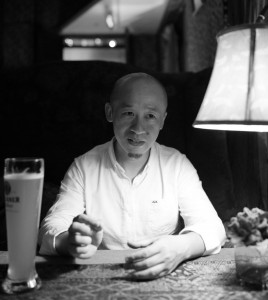 Qian Wang earned his PhD in popular music studies from the Insitute of Popular Music, the University of Liverpool, and did his post-doctoral research at the Department of Sociology, Tsinghua University. He is currently a lecturer at the School of Literature and Journalism, Yibin University, and a visiting scholar of Fudan Journalism School. His research is mainly focused on the interrelationship between Chinese/Sinophone popular music and China's society. He is particularly interested in few issues, such as sexuality, gender, queer, politics, and social movements, which objectively reflect the transformation of China since the economic reform in 1979.