Jon Fosse's Blossoms In Shanghai International Contemporary Theatre Festival 2014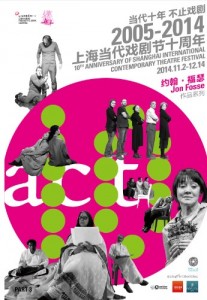 Time: November 21-29, 2014
Venue: Shanghai Dramatic Arts Centre, China
Productions: Russia.One-act play A Summer's Day/
Italy.Drama I am the wind/
Iran.Drama Dream of Autumn/
India.Drama Death variations/
Fujian,China.Drama Someone Is Going To Come
Libretto: Jon Fosse
Project Collaboration:Ibsen International/Ibsen in China/Norwegian embassy/Dramatic Arts Center Shanghai/ANTARDHWANI PRODUCTIONS/Fujian People's Art Theater/Colombine
Russia.One-act play A Summer's Day
(Live for today)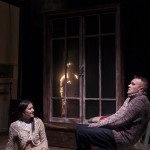 Galiaskar Kamal Tatar State Academic Theatre Presents
Approx.80mins/No Intermission/Tatar Language/Chinese Subtitles
Date: November 21-23,2014
Venue: Shanghai Dramatic Arts Centre. Drama Salon
Synopsis
The plot of Norwegian avant-gardism's play is simple and straightforward- the heroine relives the events of her youth, trying to understand what prompted her husband to disappear, to go away from her life. In everyone's life there are situations that alter the fate, forcing to return again and again to the reasons, analyzing the past, in search of an answer to a question which became a heavy burden on the soul and pulls to the slough of memories…This story is about that.
Italy.Drama I am the wind
(two men unutterably lost in his individual loneliness…)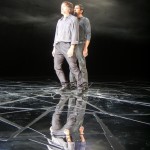 Festival Intercity Presents
Approx.70mins/No Intermission/Italian Dialogue/Chinese and English Subtitles
Date: November 25-26,2014
Venue: Shanghai Dramatic Arts Centre. Studio D6
Synopsis
Two men or maybe one man divided. They are called, slightly irritatingly, The one and The other are on a fragile boat, a trip to sea- a few drinks, a bite to eat- when one of them decides to push on to the open ocean. Suddenly there they are: among the distant islands. the threatening fog and gathering swell of the sea. bound together on an odyssey into the unknown. They talk to each other as if out of time, in a rapturously rhythmic in which the audience will recognize the truthfulness of Fosse's writing. "i didn't want to/i just did it." The play rips reality apart in taking it from that very peculiar point that the unimaginable has been more than imagine. The antiphonal to-and-fro between the men and the extraordinary tenderness of their messed-up mutuality are a thing of wonder. The writing and the direction suggest that though they may, at one level, be conjoined selves, each is unutterably lost in his individual loneliness.
Iran.Drama Dream of Autumn
(Where is life?)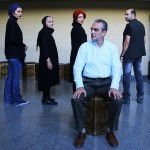 Tehran Theatre Workshop Presents
Approx.85mins/ No intermission/ Persian Dialogue/ English and Chinese Subtitles
Date: November 25-26,2014
Venue: Shanghai Dramatic Arts Centre. Drama Salon
Synopsis
The piece is consisted of a number of situations putting next to each other. It is as a matter of fact a collage of situation with no story line. There are five characters in the play, who are all present on the stage during the performance. So, there is no independent synopsis following a particular story line.
India.Drama Death Variations
(Death knows no emotions)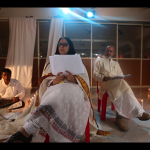 'SURNAI' Theatre Group of Mumbai Presents
Approx.90mins/ No Intermission/ English Dialogue/ Chinese Subtitles
Date: November 28-29,2014
Venue: Shanghai Dramatic Arts Centre. Studio D6
Synopsis
Death variations explores different aspects of the theme of death: death of love, death of relationship, death of happiness, and finally death of a young person.
"Shocled by the suicide of their daughter, two ordinary people search for the meaning of finality and reasons for her death. Entering a time tunnel, they confront, and are confronted by, their past selves – a young happy couple starting out life together. It is journey of awareness, sometimes threatening, sometimes uplifting and always life affirming."
What makes the play compelling is the deadly accuracy with which the playwright captures his characters' verbal and emotional inarticulacy – the play has the smell of life.
Fujian, China.Drama Someone Is Going To Come
(Others are hell.)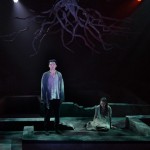 Fujian People's Arts Theatre Presents
Approx. 1hrs40mins/ No Intermission/ Chinese Dialogue/ English Subtitles
Date: November 28-30,2014
Venue: Shanghai Dramatic Arts Centre. Drama Salon
Synopsis
Someone is Going to Coe involves a man and a woman who move to an old, run-down house in the middle of nowhere in order to be alone together. From the beginning, however, they grow anxious that "someone is going to come". And sure enough, someone does come, someone whose presence has haunted the house with mystery and even terror. Finally, a feeling of anxiety and horror gradually engulfed the couple…