Dance Workshop in Beijing with Johannessen for LDTX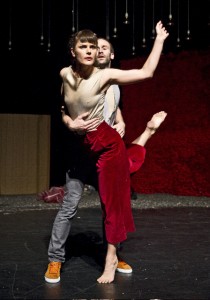 Dance Workshop with Ina Christel Johannessen for LDTX Dance Company in Beijing
Ina Christel Johannessen is a Norwegian Choreographer based in Oslo. She is a graduate from the National College of Performing Arts in Oslo, where she now teaches. Johannessen has had a strong relationship with Carte Blanche, Norway's leading modern dance company, for a long time. In addition, she is regularly involved in extensive collaborations with modern dance institutions across europe.
Furthermore, Ina functions as head choreographer and artistic director of her own company, the Zero Visibility Corp. The company had its breakthrough in 2003 with "It's just a rehearsal", which has been performed over 100 times. The company is highly esteemed both in Norway and internationally, and presents averagely one new production each year.
Johannessen will be conducting a workshop with Beijing-based LTDX Dance Company 13 – 25 April 2012. LDTX was founded in 2005 and has quickly built a solid reputation for quality and innovation both in China and abroad.