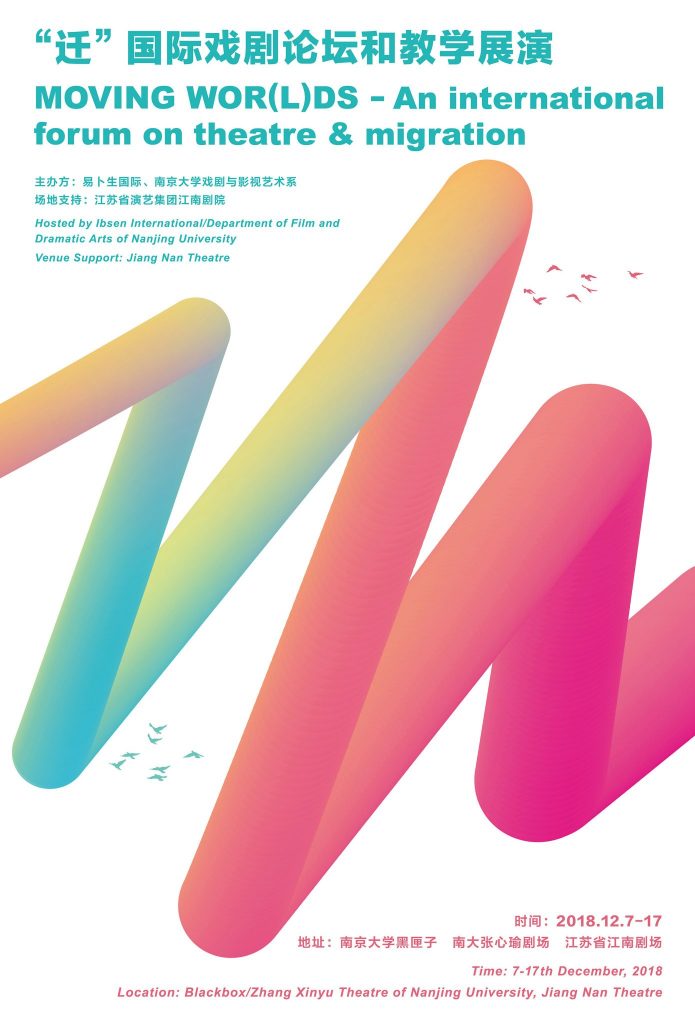 The scripts created within NEW TEXT – NEW STAGE "migrate" through different countries. They developed through stage readings and workshops, and are performed in the US, Tatarstan, South-Africa, China, Norway, Sweden, Switzerland, Germany.
Next December, Ibsen International and Nanjing University Department of Film and Dramatic Art join forces to organise the first MOVING WOR(L)DS – International Forum on Theatre and Migration.
"迁"  MOVING WOR(L)DS
What is "moving" is "in movement", but also "has the ability to (emotionally) move others". The 5 playwrights whose work is featured in this Forum are indeed moving all the time, between Shanghai and New York, between Africa and Europe, between grant applications and the rehearsal room. Their writing styles are moving too, through realism, political theatre, satirical comedy and lyricism. But it is what they write, their words, the way in which the personal melts with (becomes) the universal, that proves most moving.
This is certainly a great opportunity to gather the NTNS team (writers, producers, dramaturgs) and share the results of this incredible experiment. And Nanjing University is the ideal scenario for such a reunion: a historical landmark for artistic endeavor, an incubator of talented writers, a fertile ground for bright minds. We could not have hoped for a better partner.
But we want to go beyond the level of showcase, so, we turned the finale of the NTNS project into the premiere of the MOVING WOR(L)DS FORUM. An open platform for whoever feels part of the Human migration and wants to articulate it through theatre. A workshop for sharing good practices, rethink traditional paradigms, and formulate new approaches.
SHOWCASE
ALIEN
Kamal Theatre (Tatarstan/Russia)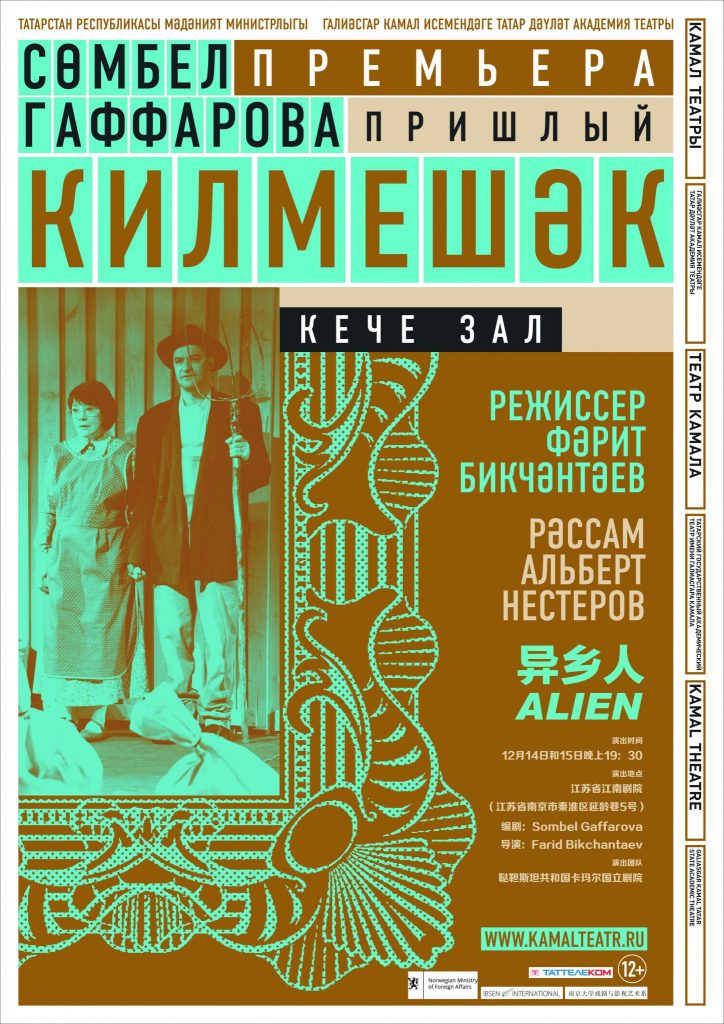 Time: 7:30 pm, December 14/15.
Address: Jiang Nan Theatre, Nanjing.
Language: Tatar with Chinese subtitle.
Playwright: Sombel Gaffarova
Director: Farid Bikchantaev
Synopsis:
After the fall of the Iron Curtain and the collapse of the USSR, the peoples of the former autonomous republics started to look into the blank pages of their history. One of these sad topics for Tatars, the second largest nation of Russia, was the fate of the captured Second World War soldiers and officers who refused to cross over to the side of nazi Germany and passed all the hardships of Hitler's concentration camps, and after the collapse of the Third Reich became prisoners of the Stalin's GULAG. Those of them who were lucky enough to return home in the fifties, only recently received the status of participants of the Second World War. However, there were some of them who, sensing a new arrest, did not return to their homeland and scattered all over the world…
WHEN SWALLOWS CRY
Market Theatre (South Africa)

Time: 7:30 pm, December 12/13.
Address: Zhang Xinyu Theatre of Nanjing University
Language: English with Chinese subtitle
Playwright: Mike van Graan
Director: Lesedi Job
Synopsis:
When Swallows Cry is a powerful trilogy on the international theme of migration and refugees, particularly as it relates to Africans. It explores the inequality and layered complexities of contemporary global mobility, particularly from African perspective. One forced to "migrate" as slaves, Africans are now among the world' least attractive migrants in the wealthy economics of the world, many built-not insubstantially-on African labour and mineral resources. The play interweaves three scenarios, set in African or about African migrants and refugees.Directed by Lesedi Job, the talented cast comprises Warren Masemola, Christiaan Schombie,Mpho Osei-Tutu , all of whom are challenged to play three contrasting characters in the three interspliced stories.
WHY NOT BEFORE
Arctic Theatre (Norway)


Time: 7:30 pm, December 12/13
Address: Blackbox of Nanjing University
Language: Chinese
Playwright: Liv Heløe
Director: Liv Heløe, Amund Ulvestad
Free will – does it exist? Or is everything already determined – by genes, upbringing and circumstances? A boy gets out of the bed he has been lying in for the last six months. He orders an air ticket and leaves everything he knows behind.
Why today? What makes him change everything on this particular day? Where does he want to go and where will he end up?
Liv Heløe's text pursues the question of free will. The boy's story is performed in Yngvar Julin's darkened space – in a surround-sound musical and tonal world created by sound artist Amund Ulvestad. The result is a new experience of sound, music and text by means of which the audience can hear the world through the protagonist's ears and be present in his exploration of the world.
EVOLUTION
Ibsen International/Nanjing University Theatre Group

Time: 7:30 pm, December 7/8/9/10
Address: Blackbox of Nanjing University
Language: Chinese
Playwright: Gu Lei
Director: He Yufan
Synopsis:
The story happens in Beijing, a white-collar couple from the suburbs are in a cab heading to the airport at 3:00 am in the morning. The wife is assigned to work in America as resident reported. The driver, a migrant worker from Henan province, during the trip, shares about the challenges of raising a child in Beijing for the "floating population". Shocked, the couple starts plotting a better future for their future family, including
an American-born baby…with the flight leaving in a few hours' time, what can they
possibly manage? The story of 3 new urban immigrants' journey towards evolution.
A DEAL
Nanjing University Theatre Group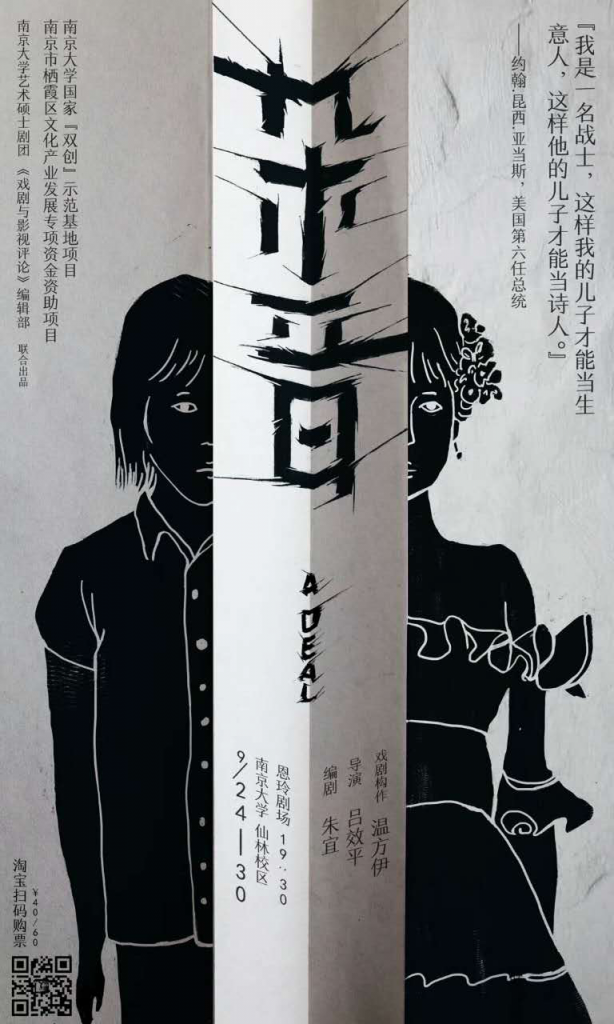 Time: 7:30 pm, December 16/17.
Address: Zhang Xinyu Theatre of Nanjing University
Language: Chinese
Playwright: Zhu Yi
Director: Lv Xiaoping
Like many new upper-middle-class Chinese families, Mr. and Mrs. Li are proud to give their daughter the life they never had – an Ivy League education, an apartment in Manhattan, the chance to become an actor. So why is she telling everyone a bulldozer killed her mother?
On a home buying journey in NYC, Mr. and Mrs. Li face fluctuations in the Chinese yuan against the dollar, East/West ideological conflicts and the realization their only daughter is turning into a dangerous stranger.
FORUM
LECTURE: Dramaturgy, documentary, independent theatre in China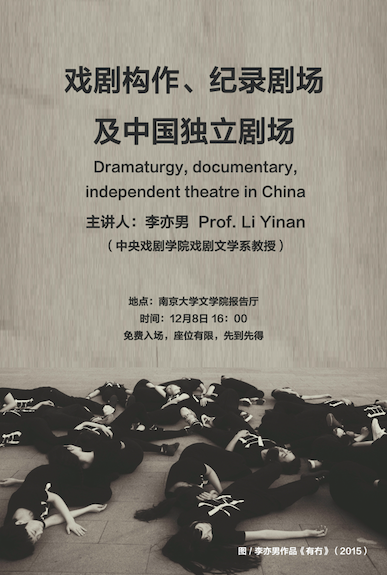 Along with the movement of people and ideas, theatre changes and takes up new forms, evolving to match local needs, aspirations, and actual circumstances. Drawing from her three-fold identity as director, theatre scholar, and professor at the Central Academy of Drama, Li Yinan takes us into a nuanced exploration of recent trends of independent Chinese theatre. What new insights can the locally-developed category of "juchang" offer? And which dynamics is the rise of dramaturgy (as both theory and practice) triggering in China?
Li Yinan, Professor of Dramaturgy and Theatre Studies at the Central Academy of Drama. She studied German Language and Literature, Dramaturgy and Sinology in Beijing, New York, Hamburg and Munich. She received her doctoral degree in 2007. In 2015 she established the first B.A. Program for Dramaturgy at the Central Academy of Drama. Major theatre works: "YouMou – Have/Have Not" (2015), "HOME" (2016), "In the Dream Land" (2017), "Shuihu" (2017), "Black Temple" (2017).
Venue: Auditorium in Literature School of Nanjing University
Time: 8 December, 16:00
Free Entrance
PANEL
In 2015, Ibsen International started the project "New Text – New Stage" (NTNS) as a platform to promote the creation of new writing internationally. Its 3 key features: the topic of "Migration" as center of reflection; a close collaboration of writers and dramaturges; the creation of international networks to produce and circulate new writing. In the following 3 years, the scripts created within NTNS have been produced, staged, won awards, and stimulated a lively debate in the 8 countries they landed on. In December 2018 writers, dramaturges and producers gather again to share the results of the NTNS experiment.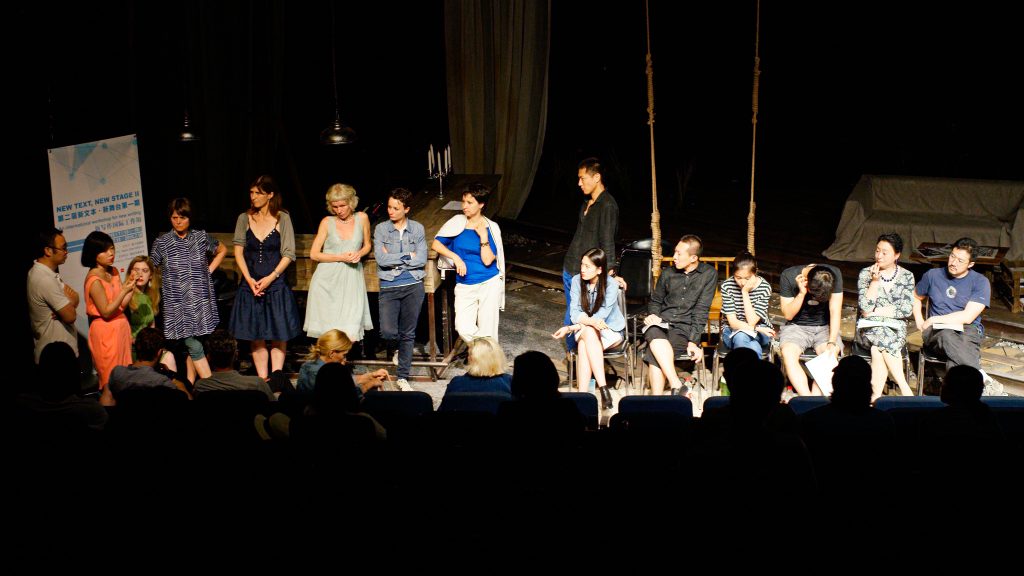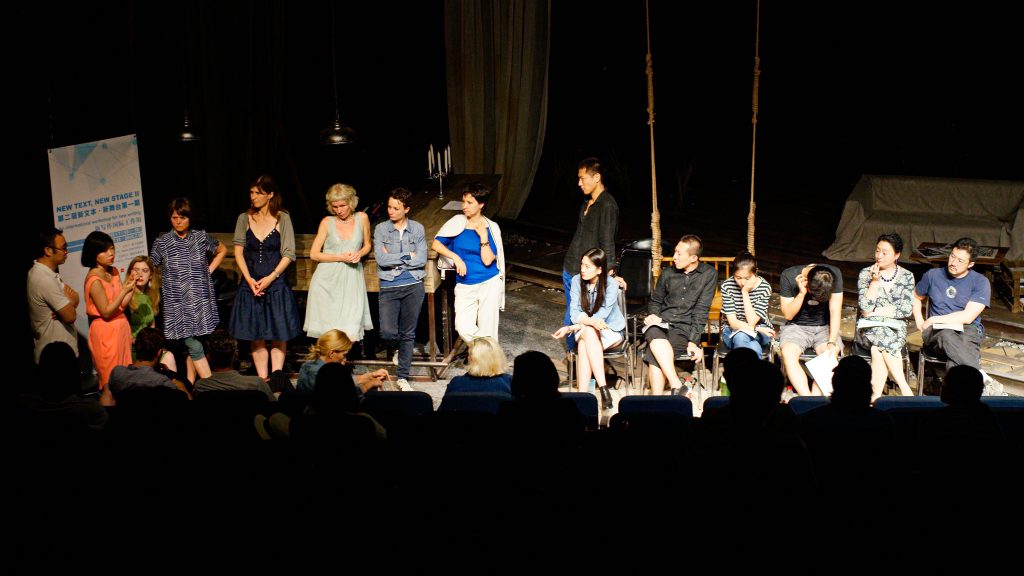 NTNS II BJ SESSION
Panel 1 : New Text – New Stage, new approaches to playwrighting
Venue: Auditorium / Literature Department of Nanjing University
Time: 9 December, 16:00 PM
Participants: Gu Lei, Liv Heløe, Inger Buresund
Moderator: Fabrizio Massini
NTNS II SH SESSION
PANEL 2: REAPING AND SOWING: New writing, curation and audience(s)
Venue: Auditorium in Literature Department of Nanjing University
Time: 13 December, 16:00-18:00
Participants: Huang Jiadai, Inger Buresund, Mike van Graan
Moderator: Fabrizio Massini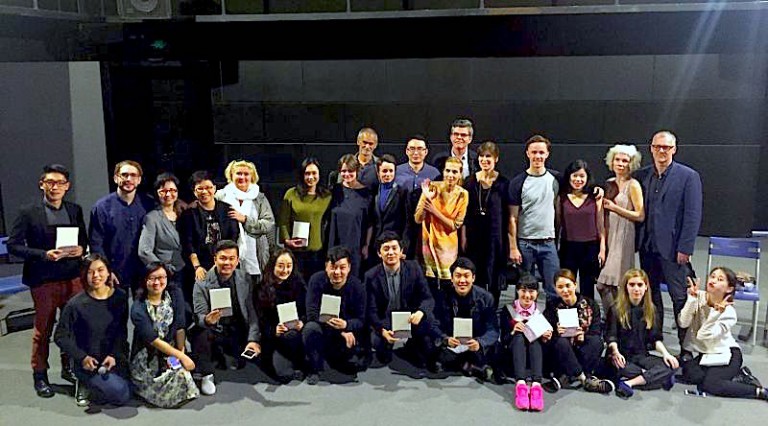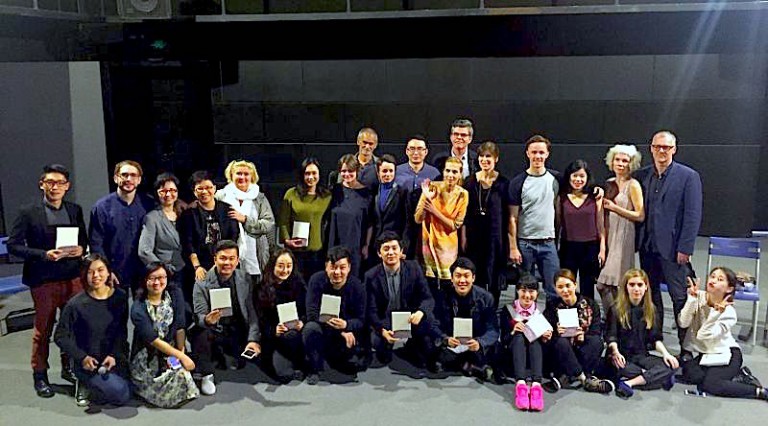 NTNS II GZ SESSION
PANEL 3: Between post-dramatic and lingering realism
Venue: Auditorium in Literature Department of Nanjing University
Time: 13 December, 10:00-12:00
Participants: Lv Xiapoing, Amund Ulvestad, Lesedi Job, Ilfir Yakupov
Moderator: Fabrizio Massini
DIRECTOR WORKSHOPS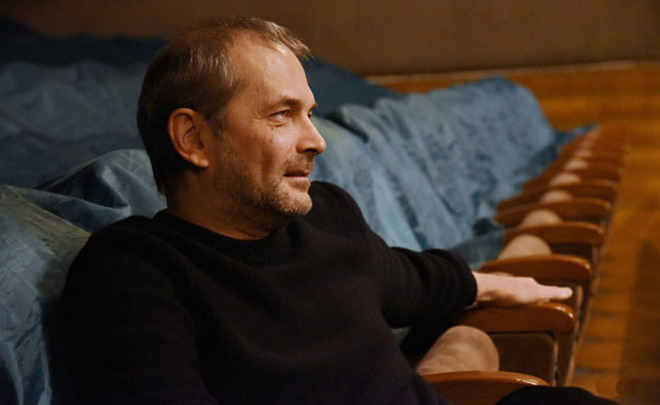 Farid Bikchantaev was born in Kazan in 1962. In 1991 he graduated from GITIS (Russian Institute of Theatre Arts) with a degree in Theatre Directing; a course run by Maria Knebel and Boris Golubosky . In 2002 he became the Artistic Director of Galiaskar Kamal Tatar National Academic Theatre. In 2011 Farid took on the role of head of the Republic of Tatarstan Theatre Union.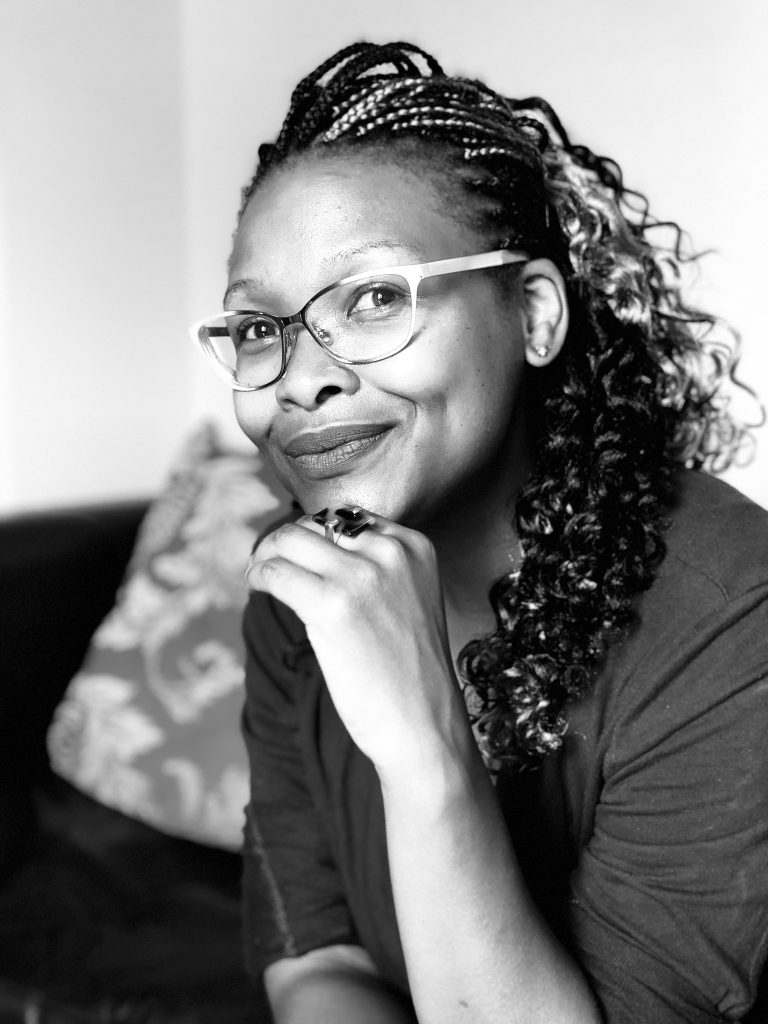 Lesedi Job is an actress and director. Lesedi made her directorial debut in 2017 with Mike van Graan's WHEN SWALLOWS CRY at the Market Theatre and went on to win the Sophie Mgcina Emerging Voice Award. The production, which has transferred to Cape Town, is currently running at the Baxter Theatre. An accomplished performer in her own right, Lesedi received a Naledi Theatre Award nomination for her role in Lara Foot's Fishers of Hope. In 2018 she won the Naledi theatre Award for Best Director for her direction of When Swallows Cry.