Workshop – The Lady From the Sea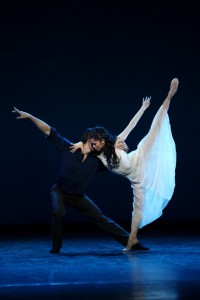 Workshop collaboration between National Ballet of China and Ibsen International presented on April 23 and 24 at Tianqiao Theatre Beijing
The National Ballet of China and Ibsen International are for the first time collaborating on a workshop presenting young Chinese and international choreographers with a dance piece inspired by The Lady from the Sea by Henrik Ibsen choreographed by Un-Magritt Nordseth. She is chosen because of her long and great experience in working with dance and text
"The workshop offers a platform for talented young Chinese artists with dreams and inspiration to make full use of their abilities and take part in the creation, including choreography, lighting and design," Work Shop's director Fei Bo told the Global Times.
"After the original works The Red Detachment of Women and Raise the Red Lantern, the National Ballet of China has always tried to create new pieces, however, the lack of choreographers has been a barrier and this is why we founded Work Shop," added NBC director Feng Ying.
The workshop is part of Ibsen in China 2011 supported and presented by The Royal Norwegian Embassy in Beijing and the Royal Norwegian Consulate General in Shanghai and Guangzhou.
A Dance piece inspired by Henrik Ibsen's Lady from the Sea
Choreographer: Un-Magritt Nordseth
Composer: Jørgen Munkeby
Assistant to the Choreographer: Kristian Alm
Light designer: Deng Wen
Producers: Feng Ying, Inger Buresund
Coordinator: Rigmor Johnsen
Co-production: National Ballet of China and Ibsen International
Premiere National Ballet of China, April 23 & 24, 2011, Tianqiao Theatre, Beijing
My dance piece is inspired by the piece of Henrik Ibsen's "The Lady from the Sea". We meet Ellida and the Stranger, the two step – daughters and the dying Lyngstrand. The ballet is not a story telling piece, but tries to give a feeling, – an atmosphere of the melancholy that is connected to Ellida's moody and disturbed longing for the open sea and the Stranger.
Un-Magritt Nordseth, choreographer
Un-Magritt Nordseth is a Norwegian choreographer and is currently engaged as Artistic Director for the National House of Dance in Norway.
After finishing The College University of the Arts in Norway in 1984, she ran her own dance-theatre company for more than ten years. She has also choreographed for all the main theatres in Norway.
From 2003 she was one of Theatre Ibsen's main directors and choreographers for performances like Peer Gynt and Hamlet among others. In 2004 Theatre Ibsen's Peer Gynt was invited to Beijing and was shown at Tianqiao Theatre.
For the Ibsen Year 2006 Un-Magritt Nordseth was one of three directors invited to join Theatre Ibsen's Grand Tour of Ibsen with several excerpts from Ibsen's play, performed in- and outdoor.
In the same year Theatre Ibsen was invited to do A Doll's House in China in collaboration with the Beijing Modern Dance Company. Un-Magritt Nordseth was both the director and choreographer of this contemporary dance-theatre piece called Hunting for Nora.
In 2008 she directed The Lady from the Sea for the Centre for Asian Theatre in Dhaka, Bangladesh which later opened the Delhi Ibsen Festival in India the same year.
She has also worked with family productions for the young audience, – including Art for the very small people (0-3) The productions has been shown in London, Hungary, Paris, Germany and Egypt.
Summary of The Lady from the Sea by Henrik Ibsen
Prose play in five acts. Written in 1888.
On the west cost of Norway, Ellida Wangel is married to a doctor much older than  herself, and has two daughters by a previous marriage. She can no longer bring herself to sleep with her husband, being haunted by the memory of a sailor she had met years before, who had betrothed her to himself by linking their rings on a key-ring and casting them into the sea. She knows that he has killed a man, but cannot free herself from him. He reappears and asks her to come away with him, and she is powerless to resist. Wangel, her husband, having failed to persuade her, gives her leave to go, fearing that otherwise she will cross the brink into insanity. Once he says this, her compulsion to join the stranger leaves her. "I was free to choose the unknown, so I was free to reject it".
Michael Meyer