The Name by Jon Fosse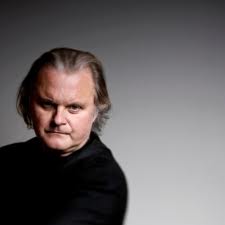 THE NAME BY JON FOSSE
Performance by the Norwegian Theatre (DNT)
Director and composer: Øyvind Osmo Eriksen
Scenography and costume designer: Kari Gravklev
Coreography: Ida Wigdel
Lightdesign: Gøril Høgber
Performers:
The Girl: Ellen Dorrit Petersen
The Boy: Sigurd Myhre
The Sister: Marie Blokhus
The Mother: Hildegun Riise
The Father: Svein Roger Karlsen
The Old Boyfriend: Øyvind Osmo Eriksen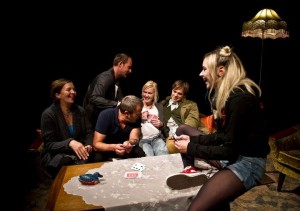 Photo: Erik Berg/DNT
A pregnant girl and her boyfriend move into her parent's house where the conversation has almost stopped and all necessary tasks have become ritualistic gestures and everybody feels left alone. The play is also about how we are using language to create a more profound meaning that is important to us.
Text translation to Chinese: Lulu Zou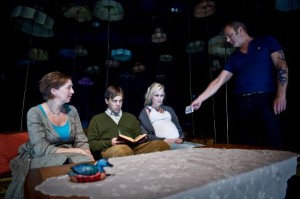 Photo: Erik Berg/DNT
The Norwegian Playwright, Jon Fosse, was introduced to China for the first time in 2010 with the production Someone is Going to Come, translated by Lulu Zou, production by Shanghai Theatre Academy and commissioned by Ibsen International within the program Ibsen in China 2010. Jon Fosse is Norway's new Ibsen and his work also includes novels, poetry, essays and books for children. He is one of the most produced playwrights in the world and his plays have been translated into more than forty languages. The Name is written in 1994.